The List: Unnecessarily Shut Down By Obama To Inflict Public Pain – Big Government
While our president still enjoys his essential employees and locations: the White House chefs, Camp David, and a military golf course, there doesn't seem to be any question that in mercenary pursuit of a political win, this White House is determined to unreasonably punish as many everyday people as possible. And this includes children sick with cancer. That might sound like hyperbole, but it is not.
.

Although Barack Obama's chefs have been deemed "essential," employees at the National Institutes of Health who offer last-chance experimental cancer treatments for children suffering from cancer have not. Worse still, House Republicans have offered to compromise with the president and single the NIH out for funding. The White House has threatened a veto.
Using children sick with cancer as pawns is community organizing on steroids. And the media are covering for him. When the media thought they could emotionally blackmail the GOP with these sick children, telling their story was all the rage. Now that it is Obama and Senate Democrats wrist-flicking refusing treatment for these children, suddenly the media aren't too interested in telling their story.
There are many other examples of this president's cold-hearted fanaticism and willingness to punish people for reasons that seem to have much more to with spite than what is and is not "essential." In fact, there are a number of examples where Obama seems to be spending more money and using more resources to close and block and inconvenience than to just leave it alone.
The media may or may not report on these individual occurrences, but what they will never do is provide the American people with the full context and scope of Obama's shrill pettiness.
Below is a list of illogical, unnecessary, and shockingly spiteful moves our government is making in the name of essential and non-essential.
This list will be regularly updated, and if you have something you feel should be added, please email me at jnolte@breitbart.com or tweet me @NolteNC.
1. Treatments for Children Suffering From Cancer – The GOP have agreed to a compromise by funding part of the government, including the National Institutes of Health, which offers children with cancer last-chance experimental treatment. Obama has threatened to veto this funding.
2. The World War II Memorial – The WWII memorial on the DC Mall is a 24/7 open-air memorial that is not regularly staffed. Although the White House must have known that WWII veterans in their eighties and nineties had already booked flights to visit this memorial, the White House still found the resources to spitefully barricade the attraction.
The Republican National Committee has offered to cover any costs required to keep the memorial open. The White House refused. Moreover, like the NIH, the GOP will pass a compromise bill that would fund America's national parks. Obama has threatened to veto that bill.
3. Furloughed Military Chaplains Not Allowed to Work for Free – Furloughed military chaplains willing to celebrate Mass and baptisms for free have been told they will be punished for doing so.
4. Business Stops In Florida Keys – Although the GOP have agreed to compromise in the ongoing budget stalemate and fund the parks, Obama has threatened to veto that funding. As a result, small businesses, hunters, and commercial fisherman can't practice their trade. While the feds have deemed the personnel necessary to keep this area open "non-essential," the "enforcement officers" to ensure no business is done are "essential."
5. Obama Blacks Out Sports, Entertainment Programming to Overseas Troops – The American Forces Network (AFN) that provides American sports and entertainment programming to our troops stationed abroad, has been shut down. For some reason, though, AFN News will still broadcast news, just not any of the popular and fun stuff.
Camp David is essential, but popular programming for heroes overseas is non-essential.
6. Obama Closes D-Day Memorial – The GOP have offered to compromise and fund the National Parks. Obama has said he will veto this compromise legislation. As a result, along with 24 other military cemeteries, the D-Day memorial in Normandy has been barricaded.
7. Obama Tries to Close Privately-Funded Mt. Vernon – Although George Washington's Mt. Vernon estate is privately funded, the feds blocked visitors from entering the parking area because the Park Service maintains the lot. Apparently, the New Media publicity resulted in the feds backing down.
8. Obama Closes Over 100 Privately-Managed Parks That Cost No Money to Run – The U.S. Treasury actually makes money from the rent paid by a private company that "employs about 400-500 camp workers and managers across about a dozen states." No federal money is used to operate these parks. No federal employees are used to staff these parks. Taxpayers make a profit from these parks. Still, Obama had them closed and as a result 400-500 employees and a private business are taking it in the neck.
9. Obama Closes Self-Sustaining Colonial Farm It Hasn't Supported Since 1980 – "For the first time in 40 years, the National Park Service (NPS) has finally succeeded in closing the Farm down to the public. In previous budget dramas, the Farm has always been exempted since the NPS provides no staff or resources to operate the Farm."
10. Obama Tries to Close State-Run Parks in Wisconsin – "The park service ordered state officials to close the northern unit of the Kettle Moraine, Devil's Lake, and Interstate state parks and the state-owned portion of the Horicon Marsh, but state authorities rebuffed the request because the lion's share of the funding came from state, not federal coffers."
11. Obama Closes Vietnam Memorial – The GOP have passed compromise legislation that would fund national memorials and parks, and open them to the public. Obama threatened a veto. Apparently, the "essential" government employees are those erecting barricades, not those who could keep the memorial open.
12. Obama Closes Privately-Owned Hotel, Police Block Parking Lot – "The operator of a 51-room inn located on U.S. government-owned land in North Carolina abandoned his defiant stance on Thursday to keep the property open despite being ordered to close as part of the federal government shutdown."
October is this inn's prime season. The GOP have offered compromise funding opening the parks. Obama said he will veto that compromise.
State troopers blocked customers from entering the inn's parking lot.
13. Park Service Ranger: 'We've Been Told to Make Life As Difficult For People As We Can' – "It's a cheap way to deal with the situation," an angry Park Service ranger in Washington says of the harassment. "We've been told to make life as difficult for people as we can. It's disgusting."
.
——————————————————————————————————————————–
.
Related articles:
.
Unbelievable: Police Force Vietnam Veterans To Vacate Vietnam Veterans Memorial – Right Scoop
The police came and forced both Vietnam veterans and the general public to leave the Vietnam Veterans Memorial after veterans went through the barricades:
WEEKLY STANDARD – After one group of veterans went around the barricade, "the park ranger told them the wall was closed," NBC's Mark Seagraves reported. "Later another group of vets showed up and moved the barricades. At that point, the memorial filled with vets and tourists. That's when police came and moved everyone out."

The Vietnam Veterans Memorial Wall is a black granite outdoor wall on which the names of the 58,272 service members who died or were unaccounted for during the Vietnam war are inscribed.

It takes more manpower and costs the government more money to close down an outdoor wall than to let people walk past it and pay their respects.

The Obama administration has been very selective in devoting resources to shutting down memorials.
.

.
Here's a tweet from Steve King on the Vietnam Veterans Memorial this morning, saying it is indeed open and the guard dogs are only for intimidation. GUARD DOGS?
.
Vietnam Wall entrance is open to all. Guard dog and guards are solely for intimidation. Go in. God Bless 'em pic.twitter.com/O7XSjOzbtj

– Steve King (@SteveKingIA) October 5, 2013
.
Click HERE For Rest Of Story
.
——————————————————————————————————————————–
.
Obama Administration Forces Hundreds Of Privately Funded Parks To Close Amid Shutdown – Fox Business
The Obama Administration is ordering hundreds of parks that sit on federal land to close amid the government shutdown – even though they don't use any government funding.
Operators of Claude Moore Colonial Farm in Virginia, for example, say they were shocked when the National Park Service ordered their park be shut. That's because it's been 80% funded by a local non-profit for years, which agreed to take over 100% of the costs of the facility as of October 1. Still, the National Park Service spent taxpayer money to erect barricades around the park and evict everyone from the farm this week.
"We do not know why CMCF was barricaded from public access or why NPS police escorted staff and volunteers off the property right before a fundraising event on Monday. The National Park Service does not pay CMCFs employees, for its operations, maintenance, events or programs," Claude Moore Colonial Farm Operations Manager Heather Bodin wrote in an email to FOX Business. "In our 32-year history of running the farm, through other government shutdowns, we have never had to close our doors before."
The same is true for the more than 100 U.S. Forest Service campgrounds and day-use areas run by the Arizona-based company Recreation Resource Management.
In a letter to his congressman, RRM's owner and president Warren Meyer writes that his parks haven't been affected by past government shutdowns because "our operations are self-sufficient (we are fully funded by user fees at the gate), we get no federal funds, we employ no government workers on these sites, and we actually pay rent into the Treasury."
However, Meyer says he too got orders yesterday, directly from the White House, to close up shop.
"I can only assume their intention is to artificially increase the cost of the shutdown as some sort of political ploy," Meyer said in his letter. "The point of the shutdown is to close non-essential operations that require Federal money and manpower to stay open. So why is the White House closing private operations that require no government money to keep open and actually pay a percentage of their gate revenues back to the Treasury? We are a tenant of the U.S. Forest Service, and a tenant does not have to close his business just because his landlord goes on a vacation."
A spokeswoman for the National Park Service told MyFoxDC that it is still federal land, and the rule is that if there's no Congressional appropriation, no visitors are allowed.
.
——————————————————————————————————————————–
.
Priests Threatened With Arrest If They Minister To Military During Shutdown – Daily Caller
In a stunning development, some military priests are facing arrest if they celebrate mass or practice their faith on military bases during the federal government shutdown.
"With the government shutdown, many [government service] and contract priests who minister to Catholics on military bases worldwide are not permitted to work – not even to volunteer," wrote John Schlageter, the general counsel for the Archdiocese for the Military Services USA, in an op-ed this week. "During the shutdown, it is illegal for them to minister on base and they risk being arrested if they attempt to do so."
According to its website, the Archdiocese for the Military Services "provides the Catholic Church's full range of pastoral ministries and spiritual services to those in the United States Armed Forces."
In his piece, Schlageter worries about this restriction as Sunday nears. "If the government shutdown continues through the weekend, there will be no Catholic priest to celebrate Mass this Sunday in the chapels at some U.S. military installations where non-active-duty priests serve as government contractors," he wrote.
Because of the lack of active-duty Catholic chaplains, the military relies on hiring civilian priests to serve as government service and contract ministers. Those civilian priests are not allowed on the bases during a shutdown, Schlageter wrote.
One Republican lawmaker on the House Intelligence Committee told The Daily Caller on Friday that this "crosses a constitutional line."
"The constitutional rights of those who put their lives on the line for this nation do not end with a government slowdown," Kansas Rep. Mike Pompeo, a graduate of West Point and an Army veteran, said in a Friday statement. "It is completely irresponsible for the president to turn his back on every American's First Amendment rights by furloughing military contract clergy."
Added Pompeo: "The President's strategy during the slowdown, just as during the sequestration, is to create as much pain as possible. However, this action crosses a constitutional line of obstructing every U.S. service member's ability to practice his or her religion."
UPDATE: A number of politicians have weighed in on the matter after this story was published:
The House will vote tomorrow morning to affirm the right of all military chaplains to conduct services during the shutdown.

– Eric Cantor (@GOPLeader) October 5, 2013
These priests have 1st Amendment right to practice faith. Hope POTUS takes possible criminal penalties off the table http://t.co/aMqy2zhZgn

– Senator Ted Cruz (@SenTedCruz) October 4, 2013
.
Click HERE For Rest Of Story
.
——————————————————————————————————————————–
.
U.S. Troops Overseas Unable To Watch NFL, MLB Games While Camp David Open – Breitbart
U.S. troops overseas will be probably be unable to watch NFL and MLB playoff games on the Armed Services Network due to the government shutdown while Camp David is kept open in case President Barack Obama wants to go on a retreat.
The Washington Examiner noted will be "little if any service" on the Armed Forces Network (AFN) on overseas bases, and a notice on the Armed Forces Network page reads:
"GOVERNMENT SHUTDOWN. Due to the government shutdown, the Defense Department can only provide limited overseas television, radio, print and web services."

Intercollegiate athletics at the service academies have also been cancelled but college football games, which are played without appropriated funds, this weekend between Air-Force and Navy and Army and Boston College will go on after there had been much uncertainty.

The AFN station, which allows U.S. troops to have a sense of normalcy by keeping up with sports back home, will face mandatory staff cuts. According to NESN, the only station that is apparently working is AFN News.
This is what we woke up to on our TV – American Forces Network goes dark. #AFN #Congress pic.twitter.com/2Yw9We0rGv

– Two Crabs (@twocrabs) October 1, 2013
.
Click HERE For Rest Of Story
.
——————————————————————————————————————————–
.
Honor Flight Vets Break Through 'Barry-cade' At Iwo Jima Memorial – Twitchy
This barricade could not keep the Marines from getting to the top of Mt. Suribachi again. #IwoJimaMemorial http://t.co/nfXOOXPi9G

—
Louie Gohmert (@replouiegohmert) October 05, 2013
.
Among the places that have seen "Barry-cades" erected in an attempt to keep people out during the government shutdown is the Iwo Jima Memorial in Rosslyn, Virginia. The blockades didn't hold up long today.
.
Bus tour knocks down Iwo Jima blockade in #WashingtonDC to bring veterans through @CNYcentral #shutdown http://t.co/6Vr4XjQ8IB—
Alex Resila (@AlexResilaCNY) October 05, 2013
Syracuse WWII vets remove Obama roadblock to visit Iwo Jima Memorial cnycentral.com/news/story.asp… h/t @LegInsurrection—
David Burge (@iowahawkblog) October 05, 2013
Syracuse Vets pose for photo at Iwo Jima Memorial after moving "water-filled" barriers shar.es/KPqMO http://t.co/UHBiUyGywX—
Legal Insurrection (@LegInsurrection) October 05, 2013
.
Once inside the memorial, the vets gathered for a magnificent photo:
.
Syrause Honor Flight storm Iwo Jima Memorial. Shame on all who keep US out of OUR parks! #WashingtonDC #shutdown http://t.co/p1x96dpSWh—
Kathryn Donnelly (@KatIsLovingLife) October 05, 2013
.
The Barry-cades were yet again no match for heroes such as these.
Update:
.
The Obama Memorial twitter.com/AlexResilaCNY/…—
David Burge (@iowahawkblog) October 05, 2013
.
Click HERE For Rest Of Story
.
——————————————————————————————————————————–
.
House Passes Bill To Retroactively Pay Federal Workers After Government Shutdown Ends – The Blaze
The House on Saturday unanimously passed a bill 407-0 that would retroactively pay furloughed federal employees after the government shutdown eventually ends.
The bill was lauded by both Democratic and Republican leaders.
"The Administration strongly supports House passage of H.R. 3223, the Federal Employee Retroactive Pay Fairness Act," the Obama administration said in a statement. "Federal workers keep the Nation safe and secure and provide vital services that support the economic security of American families."
"The Administration appreciates that the Congress is acting promptly to move this bipartisan legislation and looks forward to the bill's swift passage," it added.
Following passage of the legislation, Speaker John Boehner (R-Ohio) said he was happy to see both political parties working together.
"It's encouraging to see both parties come together to provide fairness for the 800,000 federal workers hurt by this shutdown," he said in a statement. "Now we should do something about the 800,000 jobs being destroyed by the president's health care law. That's why Republicans are working every day to reopen the government and provide fairness for all."
The measure will now head to the U.S. Senate for approval.
The federal government shut down earlier this week after the Senate and House failed to come to an agreement on a continuing resolution bill to continue funding the government.
.
——————————————————————————————————————————–
.
When The Bleeding Heart Becomes The Iron Fist – Dave Carter
Whatever the perceived shortcomings of Ted Cruz and his hardy band of stalwarts, they've performed a remarkable public service by highlighting the fate that awaits all who rub wrongly the translucently thin skin of King Barack the Petulant. The Spartans may have had their shields, Native Americans their tomahawks and arrows, the Samurai may have wielded his sword with all the deadly grace of a tiger in mid-attack, but pound for pound, nothing comes close to the audacious stupidity of "Barrycades" and people in pointy little Smokey the Bear hats, poised to protect America's monuments from law-abiding citizens.
Welcome to liberal utopia, where barriers are not erected against terrorists or illegal aliens on our nation's borders, but rather against citizens, and where wheelchair-bound veterans enroute to honor their comrades face tighter security than terrorists enroute to murder a US Ambassador. This is where up is down, wrong is right, illegality is celebrated as progress, and where Constitutionalism is derided as racist. No longer relegated to the fever swamps of academic fancy, utopia has acquired real estate and made known its demands.
"Barack will never allow you to go back to your lives as usual…" the First Lady warned us, and she wasn't just whistling Alinsky either. Under King Barack's Reign of Error, your life is no longer your own, for you are now commanded to enter into private contracts by virtue of your simple existence on the planet. Why? Because our Sovereign and his fellow travelers are compassionate, of course. Their hearts bleed for you… almost as much as your pocketbook will bleed for them.
If you suffered the fate of MSNBC's anchorwoman, you were lucky. Mara Schiavocampo found the Obamacare website impenetrable, throwing in the towel on live television after 35 minutes and saying, "If I were signing up for myself, this is where my patience would be exhausted." Unhappily, it isn't just the citizen's patience that is being exhausted, as Eric Levy of Seattle, Washington discovered.
Eric, who felt his previous insurance was too costly, managed to access Washington Health Benefit Exchange, where he was confronted with the fiction of the President's sales pitch that insurance would become more affordable. "It's another $500 a month that you have to think about how you're going to pay for," said Eric, adding, "The real thing that jumped out at me is all of a sudden I'm required to have maternity coverage."
Even in our enlightened age of trans-gendered confusion, one has to grant that the odds of Eric getting knocked up are pretty slim, but Obamacare is a collective baby with an insatiable appetite for our money on one end and little sense of responsibility at the other.
From the Obamacare Facebook page, we read still more reviews on the efforts of our benevolent masters:
The information is not very complete as I don't see anything about deductible or other detailed info, but it does give an actual price as to the "Premium." It is VERY SCARY!! For example, my insurance plan right now for my spouse and I costs $545 a month with 100% coverage after my $2,500 deductible. We are both 32 years old. When I looked at this site for 80% coverage it says it will be $954.87 a month!!!! So compare my old plan: 100% coverage for $545 a month To New Plan: 80% coverage for $945 a month. This is only an estimate but it is VERY Scary for me see this kind of increase in rates and reduction in benefits!
Or:
I am so disappointed. These prices are outrageous and there are huge deductibles. No one can afford this!
What happened to the Yes We Can chorus? Then there's the single mother of two who works full time and says she earns 75 percent less than the poverty level:
Are you [expletive] kidding me???? Where the HELL am I supposed to get $3,000 more a year to pay for this "bronze" health insurance plan!?!??? And I DO NOT EVEN WANT INSURANCE to begin with!! This is frightening.
Not to worry, Ma'am, because in utopia, it's the intention that counts. You've only to see the obvious empathy in Barack Obama's eyes, which is especially visible in the morning when he's freshly rested from a vacation at Martha's Vineyard. He must care after all, otherwise he wouldn't punish so severely those who resist his tender advances on their "lives as usual," to use Mrs. Obama's ominous phraseology.
Please note that when the people's representatives actually represent their constituents, the majority of whom want nothing to do with the wretched and wretchedly mis-named Affordable Care Act, it is the people who must be punished. Can you believe that men who conquered Nazi Germany's barricades on the beach at Normandy 69 years ago actually faced barricades from their own damned government? Can you believe that Vietnam vets, many of whom were rebuked for their service, were removed from their memorial by the police? Do the men and women who are ordered to move against law abiding veterans have no soul?
The federal government has shut down some 17 times previously, and at no time were these memorials closed. Is our Sovereign so besotted with power, has his impudent leftism so robbed him of reason that he fails to understand what is so obvious: That in barricading Americans from memorials and icons that stand as testimony to an exceptional culture founded precisely on liberty from oppressive government, he perfectly validates the arguments of the right?
As one member on Ricochet commented, this is no longer about Ted Cruz. It's no longer about the animadversions of establishment Republicans who have only to see their political shadow before becoming alarmed and settling in for six more months of concessions to the statist. This is about an arrangement the President and his party mean to consummate with the American people; an illusory promise to take care of us in exchange for our abject obedience and subservience. But as the examples cited above show, it is only the subservience that is achieved.
From barricading memorials to the closing of a private inn on the Blue Ridge Parkway, from threatening Catholic military chaplains with arrest should they celebrate mass on Sunday to taking care of back pay for federal workers at the expense of everyone else, the bleeding heart has become, as it inevitably will, an iron fist. Here and there resistance is bubbling to the surface, with Governor Walker in Wisconsin defying federal orders to close seven state-owned forests and recreation areas, and private citizens rallying to escort veterans to and from their memorials.
What began as an effort to reverse a draconian law that even now exacts a high toll in terms of jobs lost and skyrocketing premiums, has become a contest of wills in which a President instructs his apparatchiks to inflict as much pain on the citizenry as possible. Chiefly instructive in all this is the salient reality that any person capable of wielding the instrumentalities of the state in a despotic manner in the present, will prove equally capable in the future when he controls your health care.
.
——————————————————————————————————————————–
.
Million Vet March And Truckers Ride On Washington October 13 – Nice Deb
.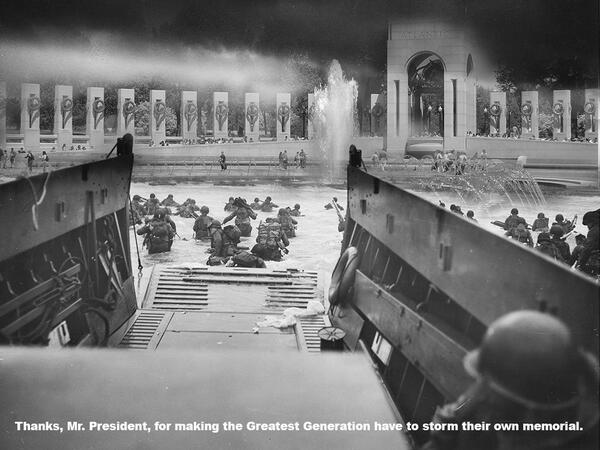 This could be big. This could end up being very, very big because two protests have been planned for the same weekend in Washington DC. On October 13, the Million Vet march will coincide with day 3 of the truckers ride in our nation's Capital.
There has been righteous indignation and rage simmering just below the surface since the Community Organizer from Chicago began usurping his power, but this past week, his thugocracy went too far. When Obama's shutdown theater was implemented to make Americans – including 80 to 90 year old WWII vets – feel as much pain as possible – that simmering rage reached a full boil.
While most of the nation's attention has been on the "barrycaded" WWII Memorial, other war memorials in DC have been shut down as well. Yesterday, Park Police removed Vietnam vets and tourists from the Memorial Wall.
Via Gateway Pundit: "Unbelievable! Barack Obama brought out the German Shepherds today to threaten US veterans at the Vietnam Memorial."
Via William Jacobson, NBC's affiliate in Washington, D.C. reports that police ordered tourists and Vietnam war veterans who were visiting the Vietnam Veterans Memorial Wall to leave the memorial at one point on Friday.

After one group of veterans went around the barricade, "the park ranger told them the wall was closed," NBC's Mark Seagraves reported. "Later another group of vets showed up and moved the barricades. At that point, the memorial filled with vets and tourists. That's when police came and moved everyone out."
Moreover, the Regime has seen fit to threaten priests with arrest if they minister on military bases during the shutdown.
There is a chronic shortage of active duty Catholic chaplains. While roughly 25% of the military is Catholic, Catholic priests make up only about 8% of the chaplain corps. That means approximately 275,000 men and women in uniform, and their families, are served by only 234 active-duty priests.

The temporary solution to this shortage is to provide GS and contract priests. These men are employed by the government to ensure that a priest is available when an active duty Catholic Chaplain is not present.

With the government shutdown, many GS and contract priests who minister to Catholics on military bases worldwide are not permitted to work – not even to volunteer. During the shutdown, it is illegal for them to minister on base and they risk being arrested if they attempt to do so.
Breitbart's John Nolte is keeping a list of parks, monuments and more UNNECESSARILY SHUT DOWN BY OBAMA TO INFLICT PUBLIC PAIN.
America has had enough of this out and out thuggery.
A "Million Vet March On The Memorials" is being organized for October 13, 2013, at the war memorials in Washington D.C.
The group is calling all patriots to attend, via their facebook page:
We are all military brats, current and former military spouses and some veterans. We cannot express how utterly disappointed we were that our Greatest Generation were being used as political pawns in the ongoing government shutdown and budget crisis. This should never be the case.

We do not care what political leanings you may be; be it liberal, conservative, Democrat, Republican, Libertarian, Independent or whatever. The actions of the U.S. government this week with regard to barricading and shutting down the World War II Memorial to veterans, that may or may not be on their last trip to Washington DC, is a despicable act of cowardice.

Veterans this week were unwillingly pitted as pawns in this crisis. We feel that this should never be the case. This is why we will go to Congress after the budget crisis and ask for a bill to be introduced that would prevent any member of the government from closing our memorials down to any American, except for maintenance purposes. In the meantime, we will have our March in Washington DC on October 13th! Our veterans deserve that!

Many in our group have decided that enough is enough. We are Americans. We are proud of our heritage and our service. As all of us were military brats and spouses, we have served in some form or another our entire lives. This is our way of life. We will not stand by and let the U.S. government dishonor the legacy of sacrifice of the generations before us. It is time to make a stand! We hope that you will join us in our peaceful protest against anti-American policies.
Via Maggie's Notebook: Truckers Ride Oct 11, 12, 13: No Freight Hauling, 3-Day Traffic Jam, Flags Flying – How You Can Help Locally, Where to Meet-Up:
As thousands of federal employees wonder where their next paycheck is coming from amid a government shutdown, around 3,000 truckers plan to descend on Washington, D.C., in an effort to shut it down further by not hauling freight for a whole weekend.

"The shutdown is actually a traffic jam," former country music star and event organizer Zeeda Andrews told U.S. News. "This is a three-day traffic jam."

***

1. Trucker Earl Conlon is calling on all truckers in their State Capitals to Rally to the Capital to show support. We understand not everybody can afford the fuel to make the DC RIDE but this is a United effort.

Drivers that are working at least fly a flag and RIDE in Convoy formation while on the interstate. There will be Local TV from coast to coast filming this solidarity RIDE and event. It is up to the Truckers Of America to wake up the people as to the harsh regulations and UN-Constitutionals laws against our commerce and its people. We are brothers and sisters of the ROAD!

All truckers in this RIDE are directed to Earl Conlon, he is in charge, email: huggyboo2u@hotmail.com.

2. Washington DC Capital on Constitution St. Show up Friday morning before the convoy gets there with signs concerning our constitution or in support of the RIDE, bring ole glory flags and show your patriotism. If some want to bring the 10 commandments to remind others of God's Laws feel free to do so.

3. All Truckers, motorcycles, cars, pickup trucks tractors, RV's that want to participate in this RIDE meet at the All American Truck Plaza off I-95 exit 98 across from amusement park. Most will show up the 10th. The event will start at 7:00 am October 11th.

4. Please dress your RIDE up with Constitutional related signs and or ole glory flags. Some people want to quote the 10 commandment and WE welcome Do what ever the spirit moves you to do.

5. People with Ham radios and Hand Held CB's will be needed for communication. Harrisburg Pennsylvania Truckers for their State will meet at The Wilco Truck Stop off I-81 exit 78.

6. All Bikers are directed to Belinda Bee.

7. If you would like to participate in the Overpasses to cheer on our Constitutional Riders or wave your Impeach Obama signs or any other signs please join your State group to get the information where they will be. The group will say closed but join because most will say that, after joining the page will open to you. [Link]

8. If you would like to rally to your nearest Rest Area Brett Backman with The Modern American Revolution said he would work the Rest Areas and the Overpasses in this event. If you want to start a Rally in your area at a Rest Area please let us know and we will post it. On Facebook: Modern Revolution

9. Fred's Restaurant in Wheelersburg, Ohio will be supporting the Truckers Ride for the Constitution. Truckers traveling to D.C. Oct. 11,12,and 13 th can stop by and receive a Free Personal Pan Pizza, chips and a 20 oz. drink. Plz share so we can get the word out. God Bless America! [Link]

10. Stephanie King: feeding station, I-75 in Kentucky on Jelico Mountain.
It's time for Americans to PROTEST LIKE EGYPTIANs.
.